NORTEC präsentiert 450 to WOOJIN 2-Plattenmaschine auf der KIS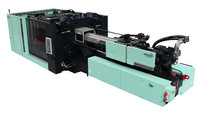 WOOJIN DL A4 450
NORTEC ist seit 25 Jahren Lieferant von renommierte Kunden für Spritzgießmaschinen aus dem Premium-Segment. WOOJIN ist der Marktführer für Premium-Spritzgiessmaschinen aus Süd-Korea und entwickelt seit 2014 Spritzgiessmaschinen in Österreich für den Markt in Europa. Die gesamte Antriebstechnik und die Maschinen-Steuerung kommt aus österreichischer Produktion. Im Schliesskraftbereich von 50 – 4.300 to bietet WOOJIN 3 Baureihen mit hydraulischen, vollelektrischen und in 2-Plattenbauweise an.
Auf der KIS präsentiert NORTEC die 2-Plattenmaschinen WOOJIN DL450-4200 mit SEPRO Roboter Success 33. Der Schnecken Spezialist Maxi Melt zeigt zum ersten Mal in Bad Salzuflen die neue 3-Zonen awc canadian Hochleistungs-Schnecke für die Verarbeitung von verstärkten Kunststoffgranulaten.
Der energiesparende Eco-Servo-Pumpen Antrieb gehört bei WOOJIN zur Standardausrüstung, ebenso wie die bedienerfreundliche Steuerung von B&R mit dem windows-basierenden Betriebssystem mit dem Easy-Connect über USB-Anschluss zu jedem Windows-Rechner.
Für Verarbeiter interessant ist das hochmoderne Technikum von NORTEC in Soltau. NORTEC bietet seinen Kunden hier Abmusterungs- und Einfahrkapazitäten von 50 – 1.000 to.
Entdecken Sie die Stärken von WOOJIN
- europäische Premium-Qualität
- 12 – 16 Wochen Lieferzeit für Maschinen bis 2.000 to
- interessantes Preis-Leistungsverhältnis
- 24 h Ersatzteil-Service
- jederzeit qualifizierter, persönlicher Support
Die Europazentrale mit Vertriebs- und Servicezentrum sowie das Forschungs- und Entwicklungs-zentrum der WOOJIN PLAIMM GMBH., befinden sich in Leobersdorf, Österreich.
NORTEC ist neue Generalvertretung von WOOJIN in Deutschland
Seit über 25 Jahren ist NORTEC die erste Adresse für Spritzgießmaschinen und Roboter. In dem Technikum in Soltau präsentieren wir Spritzgießmaschinen von 50 – 1.000 Schließkraft, vorführbereit mit Robotern von SEPRO.
Das erfahren After Sales Team von NORTEC gewährleistet 24 h Telefon-Support, Kundendienst und Ersatzteilversorgung.
Kontakt
NORTEC MASCHINENTECHNIK GMBH
Peter Nellen
Gottlieb Daimler Straße 5
29614 Soltau
+49 5191 96 97 80
p.nellen@nortec.biz
http://www.nortec.biz