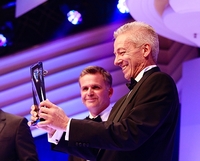 Dr. Schannath nach Überreichung des Awards durch Klaus Mantel, Geschäftsführer der Experteer GmbH (Bildquelle: @ Experteer GmbH)
Frankfurt/Hannover, 22.6.2018 – Die Kapital- und Immobilienmarkt-Personalberatung Dr. Schannath Executive Search erreichte im Rahmen der Verleihung der diesjährigen "Headhunter of the Year"-Awards in der Kategorie "Candidate Experience" den dritten Platz und wurde mit einem der begehrten Headhunter-Awards ausgezeichnet. Die Verleihung des Awards unterstreicht das herausragende Feedback betreuter Kandidaten, die insbesondere die hohe Fachkompetenz in der Zielbranche und die hervorragende Kandidatenbetreuung hervorhoben. Die "Headhunter of the Year"-Awards werden jährlich wiederkehrend durch die Experteer GmbH verliehen.
Dr. Schannath Executive Search wurde nach 2017 bereits zum zweiten Mal für den Headhunter of the Year Award nominiert und konnte in diesem Jahr mit dem dritten Platz in der Kategorie "Candidate Experience" überzeugen. Das ist das Ergebnis einer umfangreichen Kandidatenbefragung im Frühjahr dieses Jahres durch die Experteer GmbH. Zu den wesentlichen Kriterien gehörten unter anderem die "Wahl des Erstkontaktes", die "Passgenauigkeit der angebotenen Position", die "Professionalität" sowie das "Know-how" der Personalberatungen.
"Mit diesem Ergebnis, auf das wir sehr stolz sind, werden wir in unserer Philosophie bestärkt, dass nur eine intensive Betreuung der Kandidaten, ein sehr eng umrissener Branchenfokus auf den Kapital- und Immobilienmarkt und eine tiefe Vernetzung im Kundensegment zu einer win-win-Situation für Mandanten und Kandidaten führt", erläutert Dr. Schannath nach Überreichung des Awards. Die Awardverleihung fand am 14. Juni 2018 im Hotel Bayerischer Hof in München statt.
Über Dr. Schannath Executive Search:
Die Personalberatung Dr. Schannath Executive Search besitzt 15 Jahre Beratungserfahrung bei der Besetzung von Management- und Fachpositionen in den Bereichen Kapitalmärkte/Kapitalanlage, Real Estate und betriebliche Altersvorsorge/bAV. Sie betreut deutschlandweit Kapitalanlage-, Asset-Management- und Fonds-Gesellschaften aller Segmente, Immobiliengesellschaften, Intermediäre wie Verwahrstellen und bAV-Beratungsgesellschaften sowie institutionelle und semi-institutionelle Inves-toren (Banken, Versicherungen, Versorgungswerke, Pensionskassen, Family Offices, Stiftungen etc.) bei der Besetzung exponierter Positionen. Durch diese 360°-Sicht auf das Kapitalanlagesegment, hohe fachliche Kompetenz sowie hochgradige Vernetzung auf allen Ebenen besitzt die Personalberatung einen exzellenten Zugang zu den Marktteilnehmern und ein tiefes Verständnis für die Problemstellungen im Kapitalanlagesegment. Die Personalberatung ist mit Büros in Frankfurt, Hamburg und Hannover überregional vertreten.
Kontakt
Dr. Schannath Executive Search
Dr. Heinz Schannath
MesseTurm – Friedrich-Ebert-Anlage 49
60308 Frankfurt/Main
069-50956-5437
HS@schannath.com
http://www.schannath.com